Established in 1951, the Sodality Guild is the oldest organization in the parish. In addition to fostering devotion to the Blessed Mother, the Sodality adopted as its mission: spiritual development, service to the church and community, social action and fundraising for special needs. The Sodality welcomes new members and invites all women of the parish to attend its functions.
To learn more about Sodality's mission, download this BROCHURE.
If you would like to become a member, contact Membership Chair Patty Bubar at .
Spring Events:
*May is the month where we recognize our Blessed Virgin Mary as the "Queen of May." Devotions traditionally honor Mary with special hymns and a May Crowning.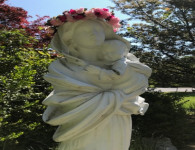 *Congratulations to de Chantal eighth grader and Junior Sodalist Katie McCabe, winner of the 2020 Junior Sodality scholarship essay contest! The timely question for this year's essay was: "As Catholics, we are called to serve and minister to others in and out of church. Social distancing makes this difficult. How can we live our Catholic faith and continue serving when we can't gather in-person? What creative ways have you found to serve?" Katie's prize-winning essay can be found here. She will be attending Georgetown Visitation Preparatory School in September. Sodality is pleased to provide Katie with a $2,500 scholarship towards her tuition, and we send her our best wishes for continued success in her Catholic education.
Novena of the Holy Spirit
The Parish Council provided a NOVENA OF THE HOLY SPIRIT for distribution to parishioners that we as members of the St. Jane de Chantal Parish could pray for the needs of our parish. While as Sodalists we may not be able to meet daily to pray together, having this novena can be a way for us to grow together spiritually in spite of our physical distance.